Ideas To Incorporate Blue In Your Home Decor
February 2022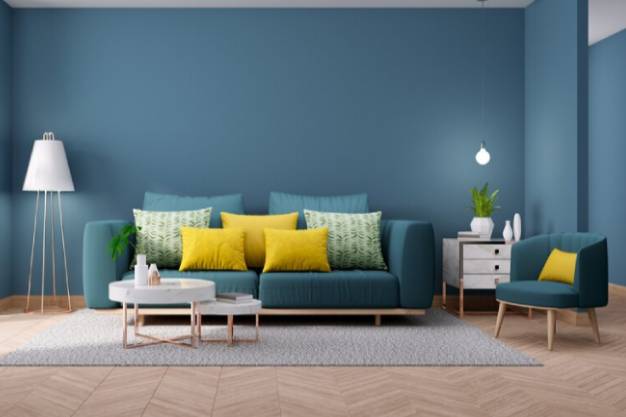 Beat the blues by incorporating navy blue into your home, as it is not only soothing to the eyes, but also adds an air of nonchalance to any room it is used in

Envision this idyllic vision: cloudless summer skies, warm calm sea and a fisherman's boat sailing across. This picture of nature not only evokes a sense of peace and tranquillity but also positivity and success. Hence, it is no surprise that several studies have revealed navy blue as one of the most calming colours.

According to experts, navy blue is a timeless colour that carries a sense of elegance and sophistication. It is a strong, upright colour that lacks the hard edges and absolutism of black — navy blue commands without being dictatorial. Also, the beauty of navy blue is the elemental colour's amazing versatility. Much appreciated for its neutrality, weighty presence and classic-meets-comfort sense, this amazing hue adapts to suit most colour schemes and almost all decorating styles.

The colour blue also helps bring down a person's blood pressure and slows down the respiration and heart rate (seriously!). It sets the mood for a cozy and peaceful environment as well. Therefore, if you are looking to incorporate this deep hue into your home, our experts provide some stylish solutions for the same.
Dress up your home
Keith Menon, co-founder, Spiro Spero, an architecture and a designing company, points out ways to incorporate this soothing colour into your home:

Accent wall: Paint the accent wall of your living or the dining room in navy blue. It will create a statement without being too overwhelming.

Accent pieces: Poufs, arm chairs, rugs, and curtains, are a great way to bring in navy blue. Small pieces of furniture let you create a cohesive look without letting the colour completely take over.

Bedroom: Like other dark colours, navy blue instantly makes a room more intimate and cozy, so it's a good choice for a bedroom. It can help bring out other design features in your bedroom such as wainscoting, crown moulding and exposed beams. Couple it with crisp, white bed linens and metallic fixtures for balance.

If you want to decorate your home with this comforting yet rich colour – read on what Hemil Parikh, founder, Elysium Abodes LLP – luxury design company has to say:

Navy blue front door: In case you are not sure where to start from, start with the main door! Whether aqua or navy or azure, true-blue doors always appeal to the eye and enhance a home's appeal.
Classic meets contemporary
Bright splashes of hues and patterns can help in modernising traditional spaces. Patterned navy blue chairs in the living room set off the space as the room's main focal point. The bold colour can also be featured throughout the room in solid blocks of colour, such as lampshades and throw pillows. A navy blue chest of drawers or side-table can also add a fun pop of colour.

Glam it up: You can make the most of the decadent vibe that dark tones can create by mixing navy blue walls with luxurious materials. Make use of the luxurious velvet fabric on sofas and rugs. They can also be combined with metallic finishes in furniture and accessories to add a greater sense of opulence.

For the balcony: If you have a cute balcony connected to your living room or bedroom, crisp blues are ideal for outdoor decorating. From navy blue painted floorboards to upholstered swings, it will recall the ever-changing shades of surroundings. Navy blue is associated with qualities such as loyalty, trust, peace and success. So, if you are looking to create a distinct look, opt for the all-time favourite and one of the most democratic colours of all time.

Don't lose sight of…

Make sure that you use navy blue only in the rooms that receive considerable amount of natural light. Navy blue looks best when the sun shines on it;


Try to follow the 60-30-10 rule of design i.e. 60 per cent of the room should be covered in the dominant colour i.e. navy blue; 30 per cent should be doused in the secondary colour and 10 per cent should be an accent;


Pair complementary colours together. For example, blue and green pair together beautifully. White and yellow with blue is a good match as well;


Do not use navy blue in abundance when it comes to large rooms. It can look very overpowering. Instead, try saturated shades like sky blue, light turquoise and the like;


Don't use dark accents in a room that has navy blue walls;


Do not paint a long wall in a narrow room in navy blue, as this will only make the room look smaller.