Ideas For A Functional And Organized Kitchen In A Spacious House
August 2022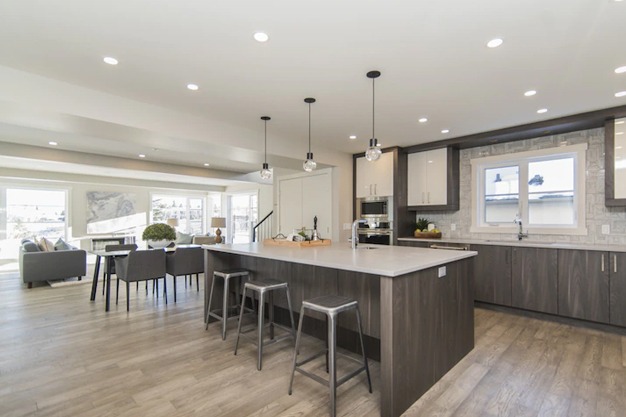 A kitchen is one of the hardworking spaces in the house. A kitchen is where you have family discussions, host friends and family and hang out with them. When you enhance the organization and the functionality of the kitchen, it looks spacious and serves the purpose well. Having a spacious kitchen is the need of the hour. If you are planning to invest in any property in South Mumbai, then you should definitely look for kitchen space in it. Luxury homes have a wider kitchen with a lot of cabinets and storage space. If the kitchen in your luxury flat is not functional to an optimum level, then our ideas can be of help for you.

Here is how you can make your kitchen functional and organized:
1. The layout of the kitchen
If remodeling is on the agenda for the current layout of your home, then you should reconsider the layout of your kitchen. The typical layouts for kitchens are U-shaped, L-shaped, parallel layout, single-walled or an island design. Open plan kitchen is the new attraction for homebuyers. Such plans help you integrate kitchen in the living space. However, here you need to keep in mind the flow and access to other rooms of the house.
2. Maximize the storage
You can make the most of the corner storage and unused areas in your kitchen. Homebuyers are now interested in having stylish and streamlined solutions for kitchen storage. Think about how you want your cutlery and glassware to be displayed in the kitchen. You can add internal organizers within the cupboards. If there is a restriction of space, then you can have tall shelves and trolleys.
3. Add a magic corner
By magic corner we mean, you can add a corner with pullout shelves. Pullout shelves help you organize your kitchen by using the wasted space. You can store large pots and pans, other bulky items.
4. Put everything in its place
You can use drawer organizers to store every appliance in your kitchen. When everything has a designated place, it gets more comfortable for you to put it back in its place. For example, you can make racks for your spices. Built-in spice racks can add a stylish compact addition to your storage space.
5. Organize garbage
The best way to address trash issues is by having a separate pullout drawer for the garbage. Composting and recycling is the right way to go. You can add multiple small bins and manage the trash in an environment-friendly manner.
6. Focus on lighting
When you cook in the kitchen, you need proper light. Allowing natural light in the kitchen is a good idea, but you can add extra lights through under cabinet lights. These lights help you find what you are looking for. So, when you wake up for those midnight snacks, these lights will help you find them. LED strips are an excellent way to light the insides of your cabinets and drawers.
Having an organized kitchen is the need of the hour. Homebuyers have specific demands for each room in the house and the kitchen tops the list.