A guide to choosing lights for each room of your house
May 2020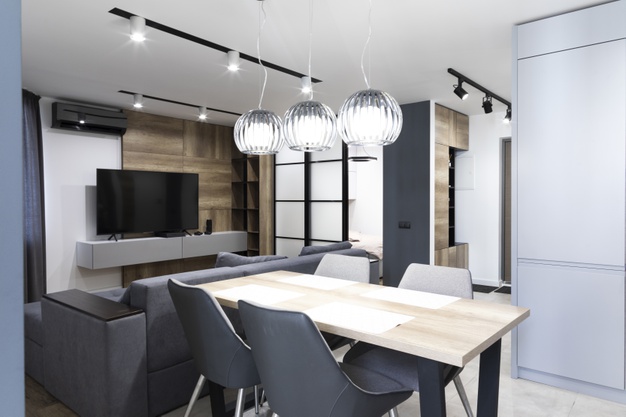 Lighting can make or mar the décor of a house. This is why home owners have to be extremely careful, when planning the lighting scheme in their homes.
Basics of home lighting
Lighting alone, cannot enhance the look of a house. It has to be used in combination with other elements in your home. No amount of lighting can uplift the atmosphere of a room that is painted with dull and dark hues. Similarly, artificial lighting can only have a limited impact, when natural light is completely blocked. Moreover, while lighting can be used to create a personal style statement at home, do be mindful that its functionality is equally important. For example, a large chandelier that you could not resist buying, may be too big for your living room and it may seem more like a distraction in the room.

The human eye is also extremely sensitive to lighting. Hence, acutely bright lights will cause discomfort, while dull lighting will result in anxiety. With these basic principles in mind, let us see how to light up each part of the house, in the best possible way.
Lighting for the entryway
For your home's entryway, you can use mild track lights. Note here that excessive lighting could be blinding and spoil the ambience.
Lights for the living room
Your living room must have overhead lights, along with spotlights that highlight your artwork, furniture or other décor items, if any. You can opt for ambient lighting when you have guests at home, while task lights would suffice, if you just want to read alone in the living room.

The size and luminosity of your lighting elements, such as lamps and chandeliers, should be proportionate to the size of the room.
Workstation lights
Your workstation needs overhead, as well as accent lighting. In case of a table lamp, the bottom of the shade should be at your shoulder height. If it is placed higher, your vision may be blocked by the light.
Bedroom lights
Your bedroom should have a combination of ambient, accent and task lighting, to ensure you get the most out of the lighting arrangement, depending on your mood. While the ambient light (overhead light) would light up the entire room, you would strain your eyes in the absence of a lamp, in case you wish to do some light reading. The height of the lamp should not be more than the height of the night stand. For further illumination of specific spots and artwork, use accent lighting in the bedroom. Also known as spotlights, these can also be used as night lights.
Kitchen lights
Just like your bedroom, your kitchen must have a combination of ambient and task lights. Too many ambient lights will not serve the purpose, when you are performing specific tasks in the kitchen. In case of a kitchen island, the spotlight should be positioned in a manner that the overhead lighting does not cast shadows. Home owners can also install under-cabinet lighting, to illuminate the kitchen countertop. Several kitchen chimneys also come with pre-fitted lights.
Bathroom lights
Your bathroom is no different and requires a combination of lights – accent lights to perform specific tasks and overhead lights, for overall illumination. Again, an overhead light can cast shadows. So, choose a longer, horizontal fixture for better lighting.
Also read: Tips to refurbish your home during COVID-19 at no cost
Back to All Thane Real Estate Articles
Source: housing.com
Share This: