2022 Could Be An Apt Year To Invest In A Luxury Home. Here Is The Reason Why
February 2022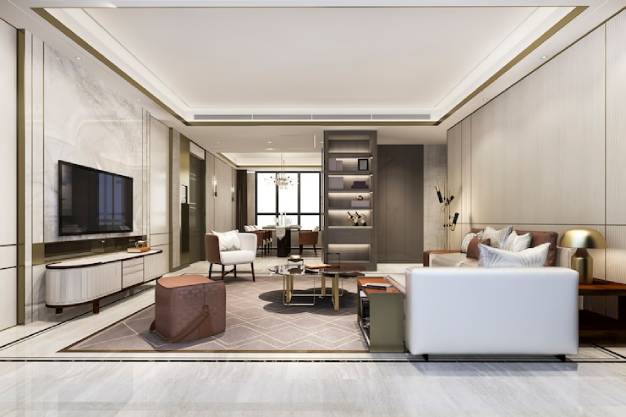 Prospective home-buyers' preferences for bigger homes, better amenities and attractive pricing will keep them interested to seal the deals. Hence, demand for luxury homes is expected to be bullish in 2022. Read on

The higher end of the property market (properties costing Rs 1 crore and above) has done progressively better in 2021. From being about 21 per cent of all primary sales in 2020, they constituted about 23 per cent of the total primary sales, revealed Knight Frank Research. A new survey by a luxury residential and international property consultancy also stated that more than 1/4th of high-net-worth luxury home-buyers purchased real estate in the last 18 months.

All this data only goes on to show that because people were confined to their houses for long periods, the demand for homes with ultra-modern amenities has seen an uptick. As per experts, the Covid-19 period has created a reset in the luxury residential market, and sales are better compared to pre-Covid-19 levels with buyers looking at bigger and upgraded living spaces.

Why have we seen a considerable spike in the luxury and premium segment? Will the luxury housing segment remain robust in 2022? Let's understand.

Key demand drivers

With work-from-home now being an integral part of the way we work, the demanding nature of houses has witnessed a change. "Looking at the luxury market, in Mumbai Worli to Churchgate saw massive movement in both supply and absorption. Similarly, Lutyens, Vasant Vihar in Delhi–NCR, Koramangala in Bengaluru, Banjara Hills in Hyderabad, and ECR in Chennai were some of the best performing regions. There were consistent transactions throughout the year with luxury sales filling around 20-23 per cent of the total sale value. While the Mumbai luxury market was dominated by high rises, other cities were driven by sales from independent houses and bungalows. The trend has now shifted towards low-density projects with controlled gentry since people started spending the majority time in–houses," says Ritesh Mehta, senior director and head (West and North), residential services and developer initiatives, JLL India.

As a result of Covid-19, luxury home-buyers are now focussing on improving the quality of life with an emphasis on health and comfort. "Among UHNIs, there has been a strong demand for high-end properties that may serve as catch-all compounds, live-work spaces, and provide a resort-like living experience, as homes have become the sole space for all activities. As a result, the luxury real estate market in India has evolved to fill in the gap of providing a healthy lifestyle, world-class amenities, and distinctive architecture that supports the purchasers' concept of modern and elegant living," adds Ram Raheja, director of a real estate development firm.

Luxury landscape changing

With home-buyers viewing property investment very differently, real estate developers are armed with the most in-demand home features to appease buyers. "Homes that boast features like outdoor areas with huge patios, outdoor kitchens and bar areas, fire pits have gained supremacy. Glossy entrance lobby with a waiting area for guests and visitors, well-equipped gymnasium, high-speed branded elevators, reception and concierge desk, rooftop gardens, water walls, private pools, clubhouses, decks, balconies, courtyards, home automation are some of the key features that are being provided by premium developers. New-age digital transformation tools and advanced enterprise technologies such as the internet of things (IoT), ERP, robotics process automation (RPA), analytics for decision making and mobility solutions, and data science are also helping developers with negotiations, prompt assets valuation, and increasing visibility and productivity," adds Raheja.

"With relaxed Coastal Regulation Zone (CRZ) guidelines, we may witness a considerable supply of sky–rise towers on the waterfront. Tie-ups between top developers and high-end designers have become a new taste statement for buyers. Aesthetic internal specifications like the larger floor–to–ceiling height, designer wallpapers, high–end sanitary wares, modular kitchen, and smart home have also become a decision–making factor for buyers. Tier-II cities like Indore, Chandigarh, Surat and Cochin have seen a progressive rise in luxury apartments as well. Also, developers are getting into second home options or primary home options with work-from-home facilities," explains Mehta.

With safety and security assuming utmost importance, UHWIs prefer to purchase a home in an integrated township that does not require them to step out of the community. "A gated community provides a holistic living experience. Hence, developers are offering premium facilities that range from a drive-in theatre, health care facilities, assisted living for senior citizens, supermarkets, shopping centres, hotels and schools all within the reach of the residents," elaborates Sandeep Runwal, managing director of a real estate company.

A pause in momentum

The last five quarters have seen a good momentum for luxury home sales starting from Q3 2020 and Omicron is not being seen as a party stopper, state experts. "The restriction in movement could lead to challenges in completion of the process of home buying and therefore deferment of purchase decisions. However, we do not see that as a great impediment as the pent-up demand for homes remains strong and will bounce back (should there be a moderate slowdown) to take advantage of the positive buying environment," says Gulam Zia, senior executive director, Knight Frank India.

"Developers across the country have lined up a good show of new launches this year. Many organised and smaller players have formed joint ventures and joint development agreements to take advantage of the current climate. Therefore, any disruption due to Omicron is likely to be a blip in the ongoing demand recovery," concludes Runwal.