Top House Painting Colours & Designs 2022: Best Home Colour Combinations
February 2022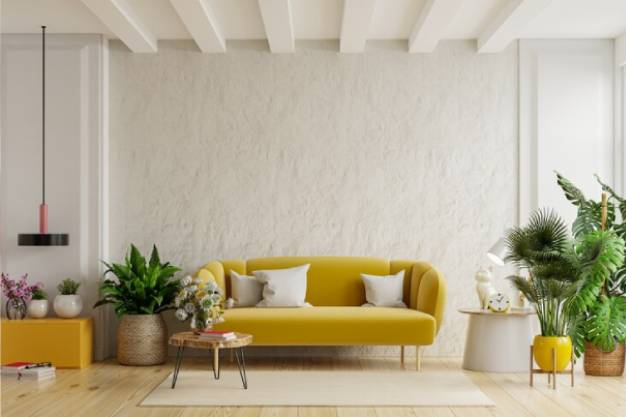 Our perceptions are influenced by the colours we employ in our designs. When you go into a new room, what is the first thing you notice? The palette of colours. We're all bound to create an opinion, whether it's positive enough to make you think, 'I have to remember to ask her what palette she used' or negative enough to make you say, 'I don't know what he was thinking.'

It's due to the fact that our brains are truly wonderful. They pick up thousands of minute facts per second, the majority of which we aren't even aware of. We then generate opinions based on these details, and we frequently act on them. Our brain has a lot of information to comprehend when it comes to colour.

Continue reading to learn why our brains can't get enough of bright interiors. By the time you've finished, you'll be giving your rooms a second look.
Colours Show Personality
When you think about it, our interior design preferences reveal a lot about who we are as individuals. The same essential pieces are required in every home: floor coverings, furniture, and lighting. That would be enough for us to get by, but we go above and above to acquire décor items that we enjoy and are attractive to the eye. It's no surprise that the colours we choose reflect our personalities.

A relationship between colour preference and personality traits has been discovered by researchers at the University of Westminster. They discovered that those who liked the same colours had some of the same characteristics:

Red: Goal-oriented, determined


Orange: Energetic, happy


Yellow: Outgoing but well-controlled, persuasive


Green: Caring and helpful


Blue: Analytical, cautious


Purple: Comforting, values dignity


White: Peaceful, often good at organisation


Black: Conservative, but also creative


Brown: Practical, excels at accomplishing tasks


Examine your surroundings. Look to see if any colours appear in your design repeatedly. What colours do you think go well with your personality? While this study isn't the only thing to consider when defining personality type, it's interesting to consider. Anyone who needs to unwind in the morning can consider incorporating a splash of green into their kitchen.
Colours Affect Your Mood
Interior design is about setting an overall tone for a space as much as it is about how a room looks visually. The majority of us want a relaxing atmosphere in our bedrooms to get a good night's sleep. Our dining rooms, on the other hand, and other areas where we spend the majority of our entertaining time should be active.

In the study of colour psychology, colour is the most straightforward approach to convey your intended mood. Keep the following tips in mind while you decorate your home:

• Warm hues, such as red, yellow, and orange, are essential if you want the space to seem energising.

• If you want the space to be relaxing, try the following: Cool colours like blue, green, or light purple are ideal.

Whatever colours you choose, keep in mind that balance is essential. When you use too much of a single colour, it might become overwhelming. Always remember to use neutral hues such as black, white, brown, or grey in your design. If you're unsure about which colours fit together, look for ideas on design websites or consult an interior designer.

Red is a great colour to use in your dining areas to get people talking.
Colours May Alter Perceptions
We're ready to wager that you've desired extra usable space in your home at some point. It's fine; we've gone through the same thing. Even if our funds prevent us from moving into the lavish interiors we desire, the proper colours can fool our eyes into thinking our rooms are much larger.

Paint the walls with a lighter colour, such as pastels, when designing a tiny area. On the ceiling, use a light shade as well. Consider painting your furniture a similar colour to the walls if you want to make a big statement. Because of their resemblance, the two parts will visually melt together, creating a more open appearance.

If, on the other hand, you have plenty of space but are worried that your area may come off as cold and distant, go strong with colour. Bright colours attract the eye, so use them on opposite walls to visually connect the space. To make a small area appear larger, choose similar colours for the walls and furniture.
Colours Make Spaces Appealing
We've all experienced the feeling of entering an unfinished room: the walls are mostly blank, there isn't much furniture, and it just feels like something is missing.

Colour acts as a uniting factor. You can achieve well-rounded interiors by selecting a few complementary colours and implementing them throughout the room's design. Accessories are a wonderful place to start if you're not naturally good at coordinating colours together. Choose a favourite throw pillow or wall hanging to use as inspiration. Take three different shades of that item and use them to decorate your walls, furniture, floor coverings, and other stuff.

A word about white: Out of all the hues on the spectrum, white reflects the most light, so it's a wonderful choice for areas that don't get a lot of natural light. But, once again, it's all about striking the right balance. Keep the other colours as bright as possible if you make white the primary colour. To avoid looking too stark, opt for a statement red couch in your living room or a vivid blue kitchen island.

Concentrate on three complementary colours in every room. Colour scheme is widely discussed in the world of interior design. People either adore or despise a colour; there is rarely anything in between. On the surface, it seems surprising that one of the simplest design elements could be so divisive, but when you consider the psychology behind it, it makes sense. The preceding article explains why our brains like brightly coloured interiors. Take these suggestions into consideration when working on your next design project.
Some Design Ideas
1. Bright Bathrooms
It can be scary to dip your toe into a sea of colour for the first time at home. That is why we believe the simplest way to begin is to bring a splash of colour to the tiniest corner of your home—the bathroom. You can choose one spot where you can experiment with colours to enliven the space.

2. Abstract Prints With Sophisticated Shades
If bright, crayon-like hues don't appeal to your minimalist side, try mixing things up with abstract designs and sophisticated shades.

3. Turkish Rugs
An extravagant Turkish rug and a sombre shade of teal paint can be the main ingredients in creating a striking style in any area.

4. Colourful Feature Wall
In a home, a one-of-a-kind feature wall flowing with brilliant texture makes a bold statement.

5. Black Walls
Black walls, like white spaces, are the ideal backdrop for brilliant colours. The harsh, black walls can be softened with joyful décor in bright colours.

In Conclusion
Colours have a huge role to play when it comes to setting mood and tone for your interiors. From reflecting your personality to affecting your moods, and bridging the gaps in décor, there's a lot that can be done with a tub of paint.