50+ Ways to Make a Bedroom Beautiful (Part 2)
February 2020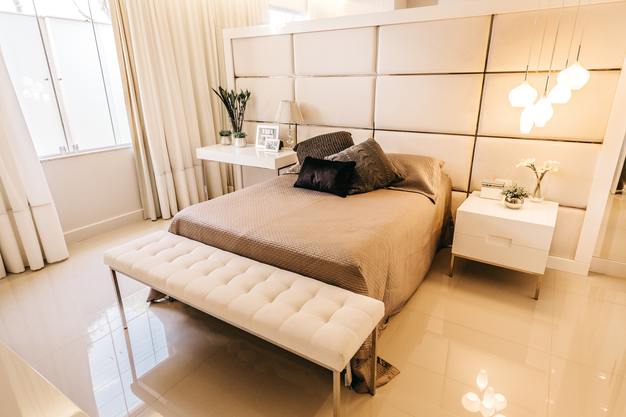 Source : pexels.com
Burnished gold
Burnt yellows are becoming an increasingly popular choice for interiors. Their muted tone makes them more suited to a restful bedroom scheme than sunshine yellow, and they pair beautifully with burnished metals for a luxurious look.
Cozy neutrals
Neutral tones bring a sense of calm and peace that's perfect for a bedroom scheme. Layer up different shades and textures – from woollen fabrics to natural wood – to keep the room feeling cozy rather than flat.
Modern rustic
Up your design credentials in an instant by combining key pieces from different styles and eras. Here, a contemporary side table sits in elegant contrast to a rustic bench, while the fabrics on the bed include a blend of modern prints and relaxed linens. Go for 70% in one style and 30% in the other to ensure the look feels harmonious.
Coastal comfort
Coastal style doesn't have to incorporate nautical accessories. A more subtle nod to a seaside setting can be achieved with lime-washed floorboards, jute accessories and a wood-paneled ceiling. Take your cue for the color palette from the soft, neutral tones of a pebble beach.
Lighten the tone
Ombré paint effects are an elegant way to work bright hues into a bedroom without overpowering the space. The easiest way to get an even look is to dilute a darker color into a variety of lighter shades using white paint. Separate your wall into a minimum of three horizontal sections, roll on the paint starting with the darkest shade at the bottom then blend the boundaries using a paint brush while the paint is still wet.
Another level
If you're short on sleeping space and have the ceiling height, you can create two bedrooms in one by introducing a mezzanine-level bed. This is a great trick to use in a guest bedroom or shared children's bedroom.
Quietly complementary
A neutral bedroom can be livened up by adding hints of accent color. Pairing up complementary colors works well, such as the orange and blue shown here. Make sure the accents are spread throughout the room to maintain a sense of balance.
Fabulous four-poster
Is there anything more opulent than a four-poster bed? Keep the rest of the scheme simple and let the bed be the star of the show. An open bed design, such as the one shown here, is a great way to work a four poster into a classic but not overly-traditional scheme. If it's grandeur you're after, go all out with a Victorian-style four-poster, complete with awnings and curtains.
Modern four-poster
Four-poster beds don't have to be traditional. A pared-back contemporary design will still add that special something to your bedroom scheme. Drape a light voile across the top of the frame for an update on traditional bed curtains.
Beam me up
If you're building a bedroom in an eaves space, it's worth checking whether you can open the room up right to the top of the roof, exposing any original beams that might be hiding there. This will make an otherwise tight space feel tall and airy, while showing off the architectural beauty of your home.
Backlit bedroom
Soft lighting is a must in the bedroom. Here, built-in storage has been transformed into a stunning headboard display using warm, low-level lighting placed on recessed shelves. LED candles give the flickering glow of candlelight without the fire hazard.
Bold and beautiful
The bedroom can be an energizing space as well as a relaxing one, especially if the room doubles up as a place to work or study. When introducing a bright hue into a bedroom, stick to one or two colors max to prevent the scheme from becoming overstimulating.
Graphic display
This simple but striking wall pattern has been created using nothing but paint – an affordable way to make a statement in your bedroom. If that sounds a bit too labor intensive, you could get a similar look using wallpaper, such as Mini Moderns' Homework design, $85 (£65) per 10m roll.
Salvaged style
You don't need to splash out on expensive materials to create a statement headboard. This eye-catching example is made from reclaimed wooden floorboards and adds a cabin-like feel to this cozy bedroom.
Art attack
Your bedroom is the most personal room in your home, so why not use it to express your own personal sense of style? A piece of statement art on your bedroom wall will be a treat just for you to enjoy, away from the inquisitive eyes of guests and other household members.
Rainbow pastels
Pastels offer the perfect palette for color lovers, allowing you to mix and match different hues without being too bold for the bedroom. Stick to low-intensity sorbet shades and you'll find it hard to go wrong.
Gallery wall
It's hard to go wrong with a gallery wall, which can look particularly chic when used on the headboard wall in a bedroom. Keep the look smart by aligning the outer edges of the frames and restricting your color palette to two or three key hues.
Into the blue
Blue is the ultimate bedroom color. Cool and calming, it sets your mind at ease and calms your heart rate, preparing you for a good night's sleep. Layer up different shades of blue, from mid-tones to light, to create a serene sanctuary.
Nautical by night
Nautical style allows you to have a bit of fun with your bedroom scheme, while still retaining a smart, grown-up feel. Navy blue and white are an easy combination to work with and you can bring the look up-to-date with a mix-and-match approach to pattern.
Subdued statement wall
If you like the idea of pattern in your bedroom but prefer to stick to soothing tones, go for a statement wallpaper in neutral colors. Keep things calm by restricting pattern in the rest of the scheme and introducing only low-intensity hues, such as the soft grays shown here.
White on white
There's something irresistibly exclusive about an all-white bedroom. This is a space just for you, where children, pets and anything else that threatens to disrupt the harmony are forbidden. Luxe fabrics and finishes will lend an air of opulence and add depth to the scheme.
Urban texture
Embrace the raw texture of warehouse-space walls by leaving them bare. Their stark beauty contrasts strikingly with warm metals and eye-popping accent colors. If you don't have brick or concrete walls, you can get the look with textured wallpaper or by painting surfaces with a thin layer of micro concrete.
Absolute vintage
Vintage furniture and accessories give a room instant character, especially if you mix and match items that you would't necessarily expect to see together. An iron-framed bed is a versatile choice that will look equally at home in a country or urban scheme.
Paint it black
Black interiors are having a bit of a moment and the bedroom might be the perfect place to try out the trend. A black backdrop creates a cocooning effect that's just right for a space designed for sleeping. Make sure you incorporate enough light tones in the furniture and soft furnishings to prevent the room from feeling gloomy or oppressive.
A pair of pendants
If you're short on space, try hanging decorative pendants as bedside lights. This not only adds a designerly touch to your bedroom scheme, but will save valuable bedside table space, too.
Blend blues and grays
Sleep in a serene space that's calming and elegant with a palette of chalky blues and soft grays. Add in pattern and texture with cushions and throws and keep wood natural to add warm notes to the look.
Bright idea
Light art is another great choice for a bedroom. It will make a quirky, contemporary addition to your scheme as well as providing extra mood lighting when the overhead lights are switched off.
The perfect Shelfie
Propping makes for an unusual alternative to hanging art. Here, a simple white shelf adorned with prints creates a beautiful focal point in an otherwise spartan bedroom, adding deeper color to a chalky scheme. Still hungry for more? Why not choose a new color combination for your bedroom?
Also read: 50+ Ways to Make a Bedroom Beautiful
Back to All Thane Real Estate Articles
Source: www.msn.com
Share This: