2020: YEAR OF THE MILLENNIAL HOME BUYER
December 28 2019
According to a recent report, a whopping 49 per cent of Indian millennials aspire to buy a home. Here's a report... 'How do I plan my EMIs?' is the quintessential question most millennial loan borrowers ask. However, the far more significant question is, 'How do I plan my down-payment?'

#MillennialRetirementPlans – this hashtag took over the internet in September this year. It humorously focused on the millennial way of life. While one of the tongue-in-cheek tweets was "gonna have oceanfront property once the water rises"; the rest depicted a more serious connotation in the form of "fix problems started by the baby boomers". Many may perceive that millennials (those believed to be born between 1981 and 1996) lack financial foresight, and instead be leading slightly frivolous lives driven solely by materialistic indulgences. But the truth perhaps is a tad different. According to Deloitte Millennial Survey report 2019, 49 per cent of the millennials aspire to own a home. The interesting part is, three-quarters of this 49 per cent are confident that they will be able to fulfill their home-buying dream. More than half of the people surveyed want to earn high salaries and be wealthy, and contrary to popular perception, not utilise their wealth to buy a high-end smartphone, but instead gain financial independence in the form of real estate.

"When they do look at purchasing a home, they do their research online in a thorough manner and take into account reviews of a particular builder/locality. They also seem to prefer ready homes or near-to-ready properties, thus making it essential for builders to have an online presence," says Mudassir Zaidi, executive director – North, Knight Frank India.

Millennials have also been the catalyst to a rise in affordable housing. According to ANAROCK research, by the end of 2020, Delhi/ NCR will have the highest number (46 per cent) of affordable housing in the country, followed by Pune, which shall have 60 per cent of the total real estate in the affordable sector. Mumbai Metropolitan Region (MMR) shall stand third with nearly 25,540 affordable units to offer by 2020.

Even in the face of the slowdown, experts believe, it is millennials who are contributing to keeping the sector afloat. Millennials who are willing to move cities for better work opportunities are constantly looking for homes to rent. "This renting behaviour can also be attributed as the outcome of high property prices," says Ramesh Nair, CEO and country head – India, JLL. This, in a way, encourages those who can afford to make a property investment to rent it out and earn a side-income.

A home in a good location, close to the workplace, with good connectivity and social infrastructure, is what millennials want. Durgesh Thackeray, who works in an ad agency validates this trend, "My workplace is in an established commercial area; buying a home here - even a studio apartment - would be way beyond my budget. Renting is manageable. I am currently renting a compact 1-BHK with my roommate and we share the rent. This eases my life as my daily commute to work takes just five minutes."

Millennials are making smart, practical moves when it comes to home buying. Not only do they wait until they are financially stable, but also calculate the other nitty-gritty to a T. They take into account the practical aspect of a home purchase; EMIs are favoured over rents, and sustainable living is important than ease of living. Zaidi adds, "Many millennials prefer smaller apartments nearer to their place of work over larger apartments farther away. Availability of all amenities and infrastructure in the vicinity is an added advantage."

We can thus conclude that while modern apartments with luxury amenities can be a preference, budget homes with basic amenities can be the ideal option.

Plan the down-payment for your home loan in advance. Here's how. "As per the RBI guidelines, the down-payment should be 20 per cent of the purchase value of the property. This key component can vary with the price. Hence, it is important to plan for it in advance," says Roopali Prabhu, head of investment products, Sanctum Wealth Management. "First, finalise the budget of your house and the time span of the purchase to know the exact asset mix required to accumulate the downpayment. If you plan to a buy a house in less than three years, you cannot take risks. So, look at debt instruments for returns. However, if you can wait longer, park your money in hybrid funds, equity funds, etc," says Pankaaj Maalde, a certified financial planner. Maintain a good credit history, plan and control daily expenses and other financial commitments and review investments periodically.

"Don't diversify your money into too many accounts. It's difficult to manage. Also, any windfall gains could also be utilised towards building the corpus," adds Prabhu.
TWO CASE STUDIES ON PLANNING THE DOWN-PAYMENT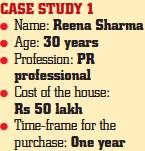 Sharma's downpayment (20 per cent of the purchase value of the property) would be approx Rs 10 lakh. Additionally, six per cent stamp duty on agreement value plus 12 per cent GST (assuming the property is under-construction, with the input tax credit being claimed and to be paid proportionately in line with the construction linked plan) amounts to Rs 4.2 lakh. With the total household income presumed to be Rs 12-18 lakh per year - keeping the one year target in mind - the total value to be saved is Rs 14.2 lakh. Hence, Sharma should first look at saving at least 50 per cent of her household income. Thereafter, she should invest in liquid instruments such as commercial paper, fixed deposits (FDs), etc with a one-year maturity period as they will give her returns between seven and eight per cent, thereby helping her reach the magic figure.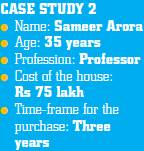 Arora's down-payment would be approx Rs 15 lakh; six per cent stamp duty on agreement value plus 12 per cent GST (assuming the property is under construction, with the input tax credit being claimed and to be paid proportionately in line with the construction linked plan) amounts to Rs 6.3 lakh. The total downpayment is Rs 21.3 lakh. If his household income is Rs 18-25 lakh per year, he should save Rs 4 lakh per year. He should adopt a low risk investment plan where in the first year he should invest in SIPs, bonds or recurring deposit for up to three years. In the second year, he should invest in AAA rated instruments or non-convertible debentures for up to two years and in the third year, he can invest in liquid instruments such as commercial paper, FDs, etc with a one year maturity period. Arora's ROI would be seven-nine per cent per annum, thus helping him meet his target within the time-frame. (The above tips are by Amit Goenka, MD & CEO, Nisus Finance)
Back to All Thane Real Estate News
Source: timesofindia.indiatimes.com
Share This: